Cartographers: A Roll Player Tale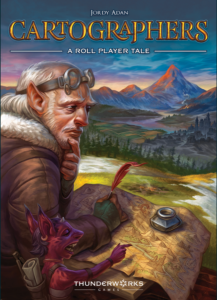 There should be a river just over that hill. I've been traveling for days to cartograph this new land. The old ruins the day before were a little surprise. I found them in the middle of a field. Ah, there it is, just as I suspected. Peacefully, he moves through the valley, and behind it, I think, is a town. But I am more interested in the dense forest that stretches up to the mountain, which towers majestically in the distance. By next autumn I want to have completely cartographed its surroundings.
The rather manageable genre of flip&fill games has got a new representative: Cartographers: A Roll Player Tale by Jordy Adan is a game set in the Roll Player universe. But you hardly notice anything of it. However, the game is already more demanding than the average Roll&Write game with dice. How we liked the game, you can read in our review.
Have fun reading!
Roll Player is a board game that focuses on that part of a role-playing game that is rather a tiresome duty before the actual game: character creation. After that the game was over. The expansion Monsters & Minions lets you explore a dungeon with the hero you created. That sounds like a classic fantasy and it is. What Cartographers: A Roll Player Tale has in common with these games, however, is only the fictional world in which the games are located. What it has in common with role-playing games is at least the aspect that game leaders often also create various maps on which the heroes then throw themselves into adventure. There is little to notice of the world of the Roll Player universe during the game, only the beautifully designed cover brings up a corresponding feeling, if you know the other games in the same universe, to which Lockup belongs.
Cartography for beginners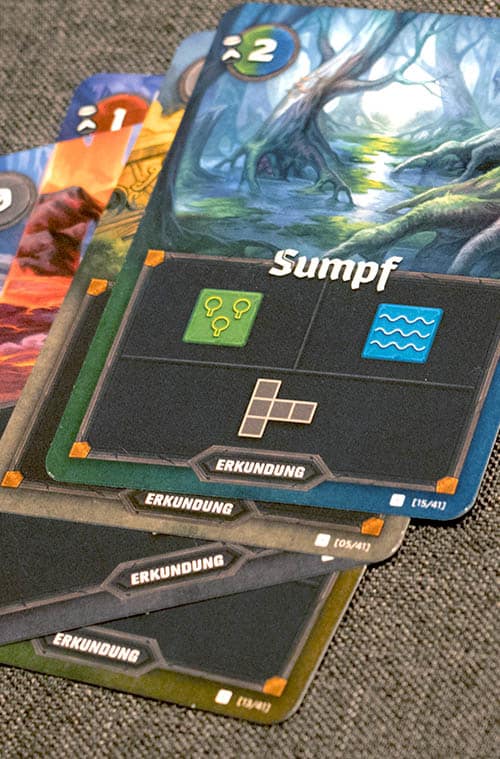 But the good news is: You don't have to know them at all and still get a very coherent game. The game is played over four seasons, in which cards are turned up until a corresponding value of the season is reached. Each card specifies one or two types of landscapes and one or two shapes you can draw from them. You can choose between two types of landscapes and a given shape or vice versa. If one has the choice between two forms, then there is a large form or a small form, but as a compensation a coin is offered. I then draw the chosen combination on my sheet. When a season is over, because the face-up cards have reached or exceeded the maximum value, an evaluation takes place.
At the beginning of the game the scoring cards for the whole game are already laid out. This is a total of four cards from A to D, two of which are scored each season. In spring A and B are scored, in summer B and C, in autumn C and D and in winter again D and A. Each scoring card is therefore used exactly twice. This kind of scoring is already known from Isle of Skye. So you can always plan which scores you want to play on to get many points and for example prepare landscapes for autumn already in spring. Coins also give you points in each scoring phase. These are both those from the small shapes and those that you have received for completely exploring the fields around a mountain.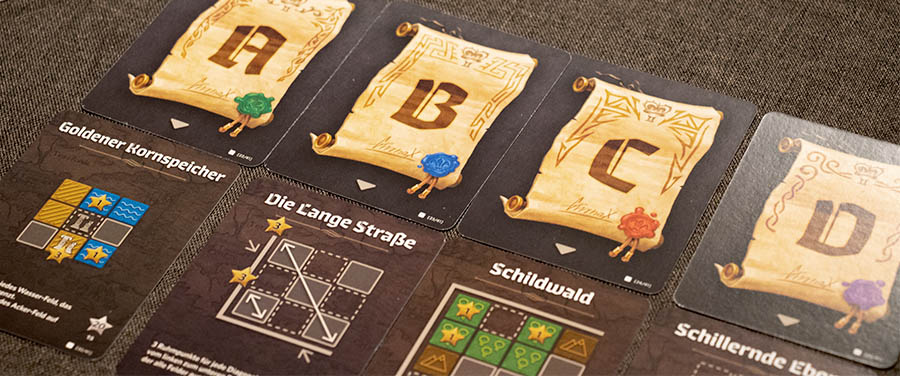 … and for advanced
Reveal, draw and score, but that would be too easy to make it a really great game. Many Roll&Write games rightly criticize the very solitary character, the missing player interaction. Cartographers: A Roll Player Tale effectively counteracts this, because in every season one card is shuffled into the landscape pile, which represents a monster attack. Each player then passes his sheet to a neighbour, who draws the required monster shape for him into the beautifully prepared and lovingly designed card. And of course exactly where it hurts the most. In this way planned scores can be made worthless. But monsters are also annoying in other ways, because free spaces around the monster blocks give minus points.
Adventure love and adventure frustration
We enjoy Cartographers: A Roll Player Tale very much. Especially the moment when you can choose where to place the little horned monsters with your opponent is always great. And, of course, to the same measure the disillusionment when you get your own hand back. But the game is certainly not suitable for every player, because it's a bit above the average flip&fill drawing game with Tetris shapes. A patchwork doodle, in which you also scribble shapes into the previously free spaces, is much less demanding.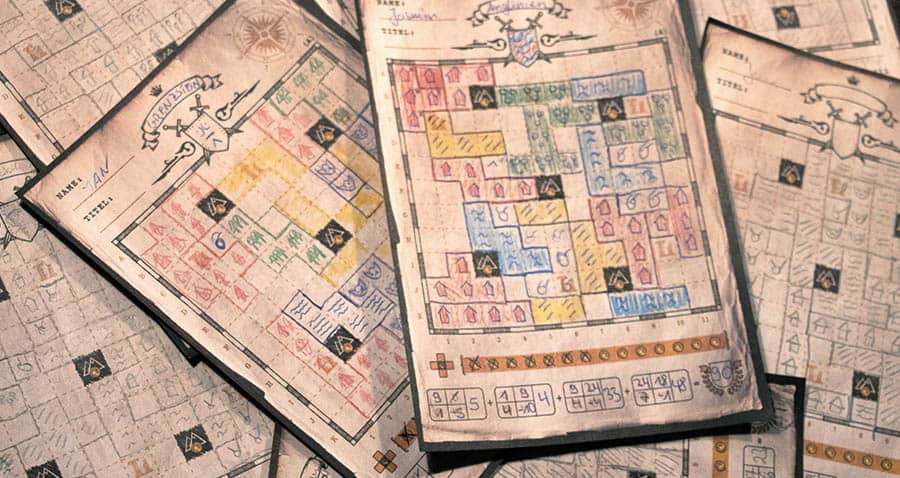 Drawing the landscapes is really fun, but the included pencils are not very suitable for this. Yes, you can erase this when you have painted yourself, but on the slightly greyed paper the grey drawings are hard to see. A ballpoint pen or even better: coloured pencils will do a better job. Only when forests are beautiful green fields with trees on them, the grain fields shine in a friendly yellow and rivers in blue flow through the red villages, does Cartographers: A Roll Player Tale show his full potential. We have found that the coloured pencils also encourage players to creatively fill in the coat of arms at the top of their sheets. The result is a unique map that can be taken along as a souvenir, regardless of victory or defeat.
In summary, Cartographers: A Roll Player Tale is a small highlight in the genre that entertains us just as well as Welcome to…
---
Cartographers: A Roll Player Tale (2019)