UNDO – Backwards through the time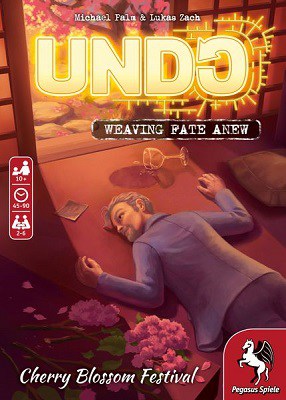 This wasn't supposed to happen like this. His life ended on 12.03.1967, but it is not the destiny, what should have happened. I quickly move through the fog of time and pick out the key events. I simply let the letter disappear here and there I leave the traffic light on red a little longer, so that he can't meet his appointment anymore. All this should change the destiny in the future. Because I am a weaver of destiny and it is my calling to undo things.
The game UNDO by Michael Palm and Lukas Zach, published by Pegasus, is a new game system in which you can travel through time to different points to change the lives of the protagonists. We've travelled through time three times for you, and have taken a look at UNDO – The Cherry Blossom Festival, UNDO – Curse from the Past and UNDO – Blood in the Gutter. If UNDO got a good start into the ranks of story-based games like Detective or T.I.M.E Stories you can read in our review. Of course, the review is spoiler-free. If there are examples needed, they are generic.
Let's UNDO it
One thing should be mentioned first: As one or the other reader of our blog has already noticed, we are big friends of board games that are about experiencing stories. If we are then allowed to make decisions, the board game is almost a must buy. So it was obvious for us, after we had seen UNDO in Nuremberg at the Toyfair for the first time, that we had to try out this game system.
When it was introduced to us, the keywords were time travel, decisions and story. We were triggered. The little bites that were served to us reminded us of T.I.M.E Stories. Only UNDO should be shorter and not so repetitive. Like a little story-based snack.
One evening it was time and we threw ourselves into adventure or rather into destiny. Quickly the time travel became relativized for us. We are not time travellers, more precisely we are weavers of destiny and can selectively influence decisions in the past in order to change the future.
As weavers of destiny, your work begins at the very moment when the protagonist dies. This is not only visually explained by the cover of the game box – by the way the only illustartion in the game – but also by a text in great detail. This text is written on one of 13 cards describing different stations of the deceased. So it's up to you to make a decision from the little bit of information on the first card at which moment you want to travel. Depending on the adventure, you can jump back a few minutes, forward or far into the past.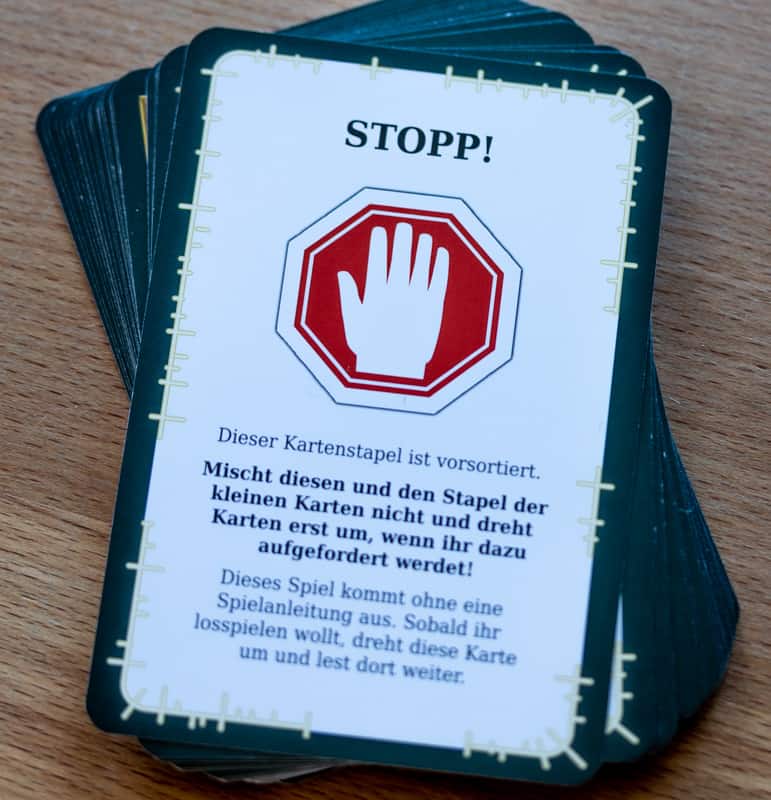 Decisions, decisions and again decisions
In total you can influence the destiny 9 times, whereby this is mechanically very simply solved. You have to make one decision per card. There are three choices: Nothing changes because you have chosen exactly what happened in the original timeline. Another choice makes it even worse. The last choice changes destiny to avert death. And exactly this is what you have to find out, because if you have found out enough from the small "positive" choices, this leads to another end of the known history. This is controlled by points, which you add up at the end.
Unfortunately, this is already one of the problems that UNDO has to deal with. Even if you make a decision, which as a chain reaction already changes the life of the protagonist completely, it can still happen that death occurs.
UNDO simply lacks a decision tree that tracks different events with different processes. So the entire game experience is limited to looking at each card for itself and thinking about which decision helps the protagonist more. Sure, the more I know the meta-story behind the cards, the easier it is for me.
And unfortunately these decisions are too obvious. Or would you choose to further provoke a policeman with his gun drawn? Of course, this is just an example.
There was not much room for wild speculations, such as with a Sherlock, in our game rounds. Also the rounds of the game, which I was allowed to watch, always came to the point quite quickly. Where were the emotional moments, as I experienced them in other board games, when it came to convincing my fellow players of my absurd theory? Or the moment of triumph when I could lean back at the table and just said, " Look, guys, I told you so!" I just didn't feel that way about the UNDO game.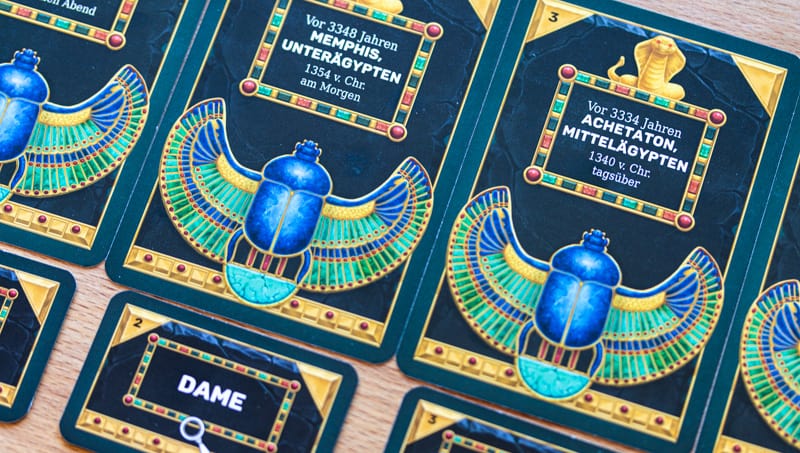 One UNDO is enough
Of course, I didn't give up right away and thought to myself: Maybe it was just because of the special adventure. I could only verify this by playing a second adventure. But this did not bring any improvement. Everything remains the same. Only the story really changes. A story that tells certain key moments only after the game. So the motives for UNDO – The Cherry Blossom Festival were only clarified by the story resolution. As a player I could not draw this conclusion during the game from the cards on the table.
UNDO just doesn't feel smooth. It doesn't give me the satisfaction I expect from a story-based game. It also means that I have to fail because I chose the wrong path. But if I make a wrong decision here, I just get a minus point. Not an emotional low point that this decision can lead to death, but I have to compensate for it mathematically. Even a new run-through, in order to change something, doesn't help. If I do it right afterwards, I still know too much and then it's even more emotionless.
And the solution offered by UNDO is anything but optimal. I'm supposed to let a little time pass before another run-through to forget things. But I don't think this is really helpful, even after 4 years I still know the key events from T.I.M.E Stories. And this board game has a more complicated event structure than UNDO.
All in all, I have the feeling that UNDO only uses a very simple story as a starting point to break it up so that it fits bite-sized on 13 cards.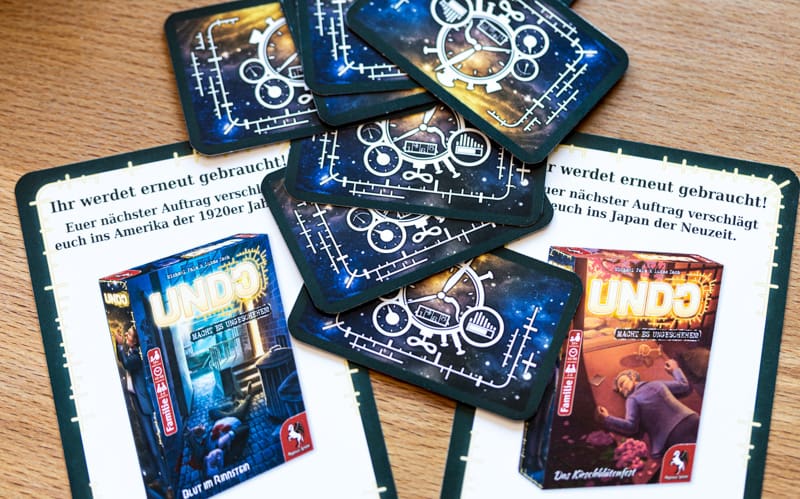 UNDO failed to meet my expectations
I must admit, I expected something quite different. But my expectations were not high. The size of the box alone showed that it would not be a heavyweight game. But it should be a short, nice game for in between. But that's exactly what it was not. Besides the problems already mentioned, it's also the playing time that doesn't convince me. We only needed 20 minutes per adventure. So the game UNDO is finished faster than expected. However, it is noted on the game box that a game should take between 45 and 90 minutes. I exclude the manual explicitly, this one also strikes again with about 10 minutes. But I only read it once, because the rules are the same for all UNDOs.
I also can't understand that the first card still mentions that UNDO comes without instructions. But the first thing I do is to read the instructions, which are spread over several cards. Only because one booklet is missing and replaced by cards, this is not a game without rules.
I also think the classification as a family game is not good, because UNDO is not a family game in my opinion. All adventures are only about preventing death. Especially younger players, the box says from 10 years on, should not be able to do much with it. Our 12 year old daughter hasn't been interested in the game in any way, even though she likes story-based games. Also, the motives of the protagonists are mainly those that adults can understand and for the children the life experience is missing.
The authors or the publisher could have made a family game out of this simple game mechanism with a different story. For me it gives the impression that the theme with death was chosen because crime and detective games are simply popular at the moment. Even the text wasteland on the cards simply doesn't fit into the scheme of a family game.
For me that' s definitely enough with UNDO, I will not have any more adventures. There are enough good story-based games on the market now that don't feel so linear and create more emotions at the gaming table.
---
UNDO: Cherry Blossom Festival (2019)
UNDO: Blood in the Gutter (2019)
UNDO: Curse from the Past (2019)