Detective L.A. Crimes – An expansion directly from the 80s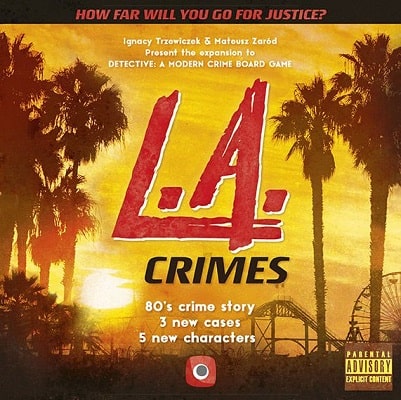 It's January 1985, Beverly Hills Cop is playing in the cinemas and a lot of people now think that police work consists of a bunch of bullets and you can solve anything if you have a loose mouth. But the reality is different. Together with my partner I've been sitting in our old Chevy for almost 5 hours now. The coffee is now cold and stale and even the hot dogs my partner had brought along are just cold, floppy things. Abruptly the door of the opposite bar slams open and a guy with a ski mask and a sawed-off shotgun storms onto the street. So the hint from our informant was right. We start the Chevy and do what people expect of us. Fighting crime with no loose lips.
One game has impressed us more than a little over the past year. The intense gaming experience that Detective from Portal Games gave us not only ensured that we awarded the game with our Board Game Adward, it was also clear that the expansion Detective – L.A. Crimes had to get on our table. Whether the new cases of Ignacy Trzewiczek and Mateusz Zaród can build on the experience we already had with the basic game, I want to clarify in this article without any spoilers.
L.A. Crimes the trip to the '80s
What an experience that was. We got wild speculations into the room, argued, convinced each other of our theories. When our theory was destroyed by a single word or a new insight, we reacted with incomprehension and immediately spun new theories. We were glad when the criminals were behind bars at the end of the day. No question, L.A. Crimes picked up where Detective left off. It was like visiting an old friend. You didn't have to talk much, you could just dive right in. In a total of three cases that are connected again, again we were detectives and tried to make Los Angeles a safe place. But L.A. Crimes has a big problem and that is that it is already over again and now again the waiting for the next expansion follows.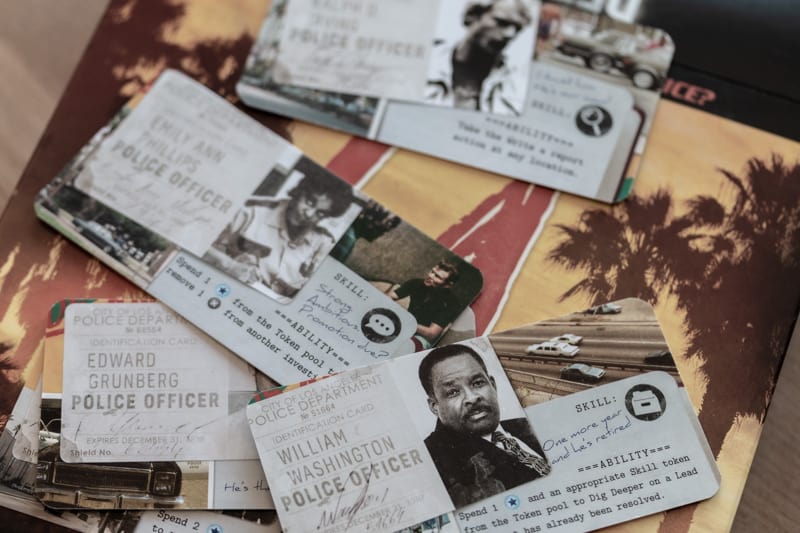 The expansion does not change the well-known game mechanics from the basic game. As police officers we have a regular day that starts at 08:00 and ends at 16:00. If we need more time, it costs stress. Stress that has a negative effect on our overall score at the end of the day. We explore places and thereby uncover cards, these cards bring us on further traces, which we can pursue further or even not. At the end we have to present our evidence to our supervisor and answer his questions in the usual multiple choice way. Afterwards there are points that mark us out as more or less good investigators.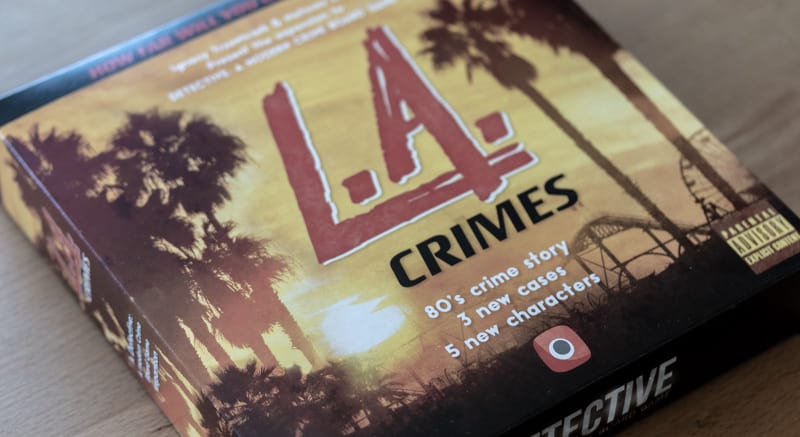 Antares in its youth
L.A. Crimes creates immersion from the first minute. This is not only because photos are less saturated than they are today. Also the Antares database from the basic game, is not so fancy anymore, we have to enter commands with the keyboard, plus a retro design in blue with white fonts. This makes me feel like an investigator from the 80s.
Of course I can't help it and have to provide my alter ego William Washington with a vita and character traits right away. – For all readers and people who know this blog: William Washington is of course for me the father of Ben Harris – But to give the character a personality is only one option. It doesn't change the overall experience that the expansion provides.
However, the expansion is a bit harder, perhaps more realistic. While in the basic game it felt as if we were playing an episode of CSI Miami or Navy CIS, where there's a clear line between good and evil, in L.A. Crimes it's more of a gray area we're in. We are just not so loyal to the law and sometimes extend our authority a little further. But this strengthens the immersion and the discussion at the gaming table even more, because all decisions have to be made together. And just because I don't have a problem with putting more pressure on the informant doesn't necessarily mean that this applies to my players.
And this grey in grey is also reflected in the story. Apparently, there isn't the one clear path as there was in Richmond. In Los Angeles, everyone is suspicious in some way.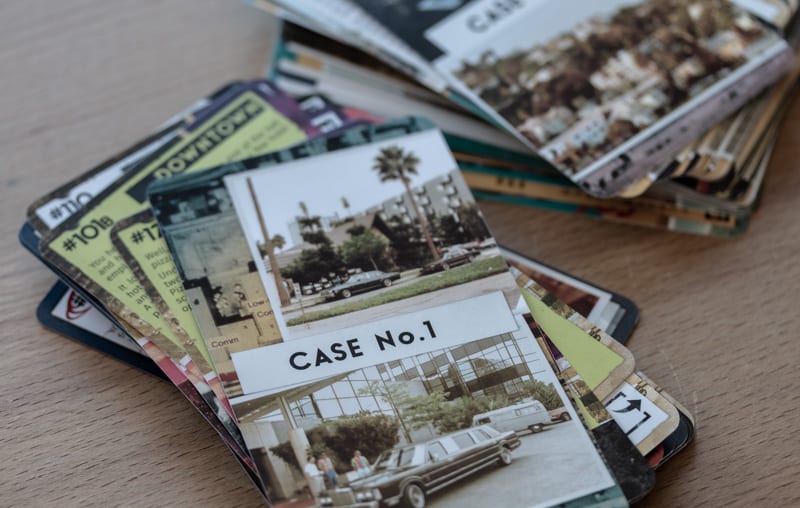 The military again
What I criticize L.A. Crimes for, however, is the focus on a military aspect again. The basic game already had suspects, victims and motives that were somehow related to the military and L.A. Crimes is going a similar way again. In my opinion, this gives a minus in the B grade, even if the theme is not as much in the foreground in the expansion as it is in the basic game. But the expansion has also shown what the board game system can do. I can sit back and let myself be drawn deep into a story.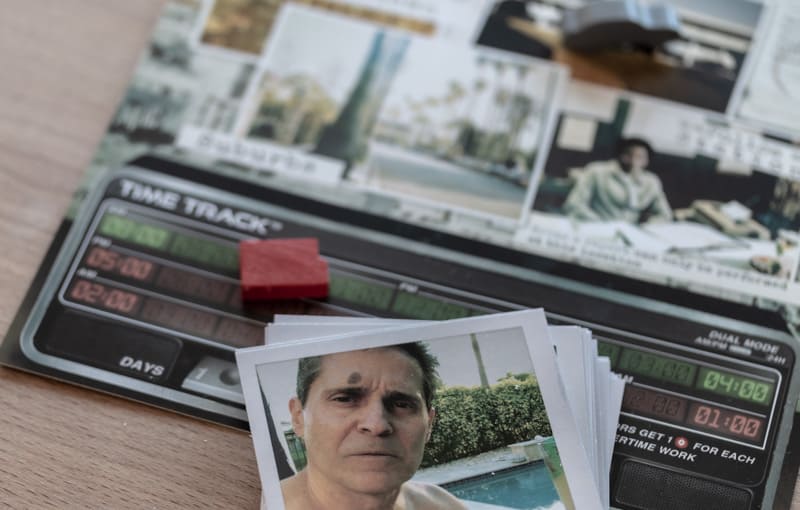 Just as L.A. Crimes has adopted the strengths of the basic game, so it has adopted its weaknesses. Also in L.A. Crimes you need a solid group that wants to solve all cases with you. It will be difficult to get in between, because you will lack knowledge about facts and past discussions. Time also plays an important role. We played through the game with two game sessions within one week. On the one hand we wanted to solve the cases as fast as possible and on the other hand we just didn't want to forget any details.
But the biggest problem L.A. Crimes has is the work I have to do. I have to browse the internet, create mind maps, take notes without end and I'm actually a part-time investigator. It's really hard mental work to work your way through the cases.
I was willing to invest this immense amount of work and I was rewarded with a thrilling story and a lasting memory of Los Angeles.


---
Detective: L.A. Crimes (2019)