Deckscape – An Escapespiel for your pocket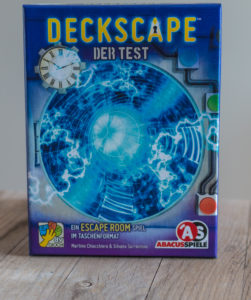 The market for escape games is already relatively well stocked. Now with Deckscape another game comes into the shops. It was developed by the Italian publisher dv Giochi.
60 cards to escape
What's different about this game? The simplicity of the game is clearly in the foreground, because Deckscape does not need a rulebook. You just play from the top to the bottom of the deck. Each rule is explained to the player by the cards themselves. You don't need any extras like apps or calculators. However, it is recommended to have a pad and a pen ready.
In Deckscape the puzzles and the solutions are printed on the front and back of the cards. If you have solved a puzzle, you simply turn the card over and check if the answer is correct. If you have solved the puzzle correctly, you put the card aside and move on to the next card. But if the answer is wrong, nothing changes in the further procedure. You continue with the next card in the same way, but note the failed attempt before. At the end you add up the time spent and the failed attempts. A small scoring sheet tells you how well you did in Deckscape.
Conclusion
Quick on the table and fast played, that's what distinguishes Deckscape.
The curiosity was high, when Deckscape was played. How difficult are the puzzles, how well does it compare to other escape games?
The positive thing is that you don't have to destroy any components in Deckscape. There is only one card in the deck where you have to enter your start time and your failed attempts. Even if you do this, you can still give Deckscape to other players, because this card is not crucial for the game. Also the simplicity is convincing: You don't try to find out any code, but you talk about the card and think together what the solution is. Because sometimes it is enough to simply say: "I press the yellow striped button!
Unfortunately the puzzles are a bit too simple for my taste. Of course you still hang on to one or the other puzzle and get a hint. But at the bottom line it remains simple. The thematic realization isn't really well done, they are all just cards of the same size. The story you are told isn't really thrilling. And also the fact that you always get the solution of a puzzle presented immediately isn't really advantageous for the puzzle fan. You simply have no possibility to think about another solution.
From my point of view Deckscape has found its gap in the genre of the Escapes games. If you don't want to destroy anything, don't need any extras, don't want to spend so much money for a unique gaming experience and don't want to get stuck somewhere, you should go for Deckscape.
---
Deckscape: Test Time (2017)