Unlock! Timeless Adventure – Through time without an elevator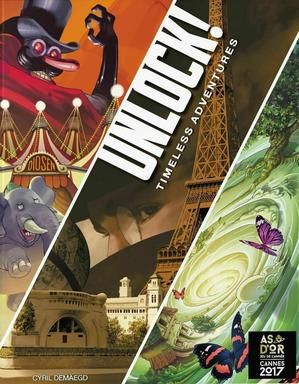 Time's running again. Once again we're stuck here and can't get anywhere. And why isn't this Noside being arrested at last? I mean, we've beaten him twice now and now he's right in front of us again. So at least as far as I can tell. But this time it must work, this time the handcuffs will click and this time he will find his just punishment. Because… – Where did he go?
With Unlock! Timeless Adventures the Unlock! series by the Space Cowboys is now in its sixth round. But the game series still remains true to itself. You still need an app and the clock is still ticking against you. Whether the game still convinces us with its sixth box, you can find out in our review of the Escape game Unlock! Timeless Adventures.
New Unlock, new puzzles
Some time ago I had already mentioned several times that the escape games don't knock me off my feet anymore and that I don't really want to play new adventures anymore. The only exception were the games of the Unlock! series. Because the Unlock! series had surprised me again and again until now, and it is still a perfect example of how a smartphone can be wonderfully integrated into such games.
So now there was a Unlock! Timeless Adventures on the table. And in the end I have to say that I enjoyed the adventures. However, a certain routine comes into play and so far we haven't found an Unlock! as easy as Unlock! Timeless Adventures was. Or was it nevertheless not the routine but were it adjustments in the puzzles that everything ran like smooth? Unfortunately I can't understand that from our point of view anymore. That's just the curse of one-time games. In addition, other players told me that the newest Unlock! adventures seemed quite simple to them.
In any case, it is the Unlock! that makes me wonder where the thematic classification is. My initial expectation was that it would be a bunch of adventures related to time travel. However, only one of the three adventures is a time travel trip, while the other two were thematically more standard. Once again there was an adventure with the crazy Noside, which means that he is now included in 30% of all Unlocks! The third adventure takes place in Paris, where we, as master brooders, set out to find the master thief Arsène Lupin to take us in.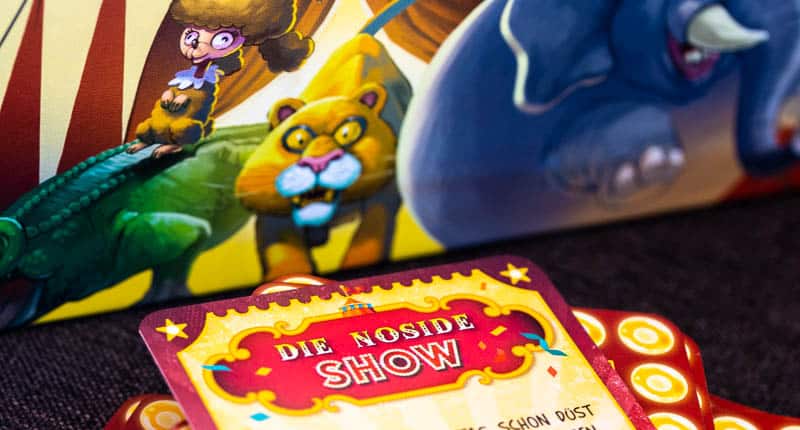 Without an app, you can't go into Unlock! Timeless Adventure
Even in Unlock! Timeless Adventures the app is of course absolutely essential. And while in every previous Unlock! the app has always shown new possibilities, what is possible in combination with technology, it is in the current Unlock! Timeless Adventures in such a way that unfortunately there is no aha-moment in which I was happy to see what the app can do. Looking back, there is no moment that reminds me of this one thing, where the app stood out again. But maybe I've become indifferent and expect too much. Because the app simply works very well and does what I expect it to do: It adds another level, away from the gaming table and towards the digital technical possibilities.
What I've been noticing more and more lately, though, is that there's more and more extra material in the box. Was it at Unlock! Heroic Adventures and Unlock! Exotic Adventures only single sheets or small booklets, Unlock! Timeless Adventures beats everything that has ever been done before. Each of the adventures has another game component besides the actual deck of cards, which is important for the adventure. Whereby here again applies that nothing must be destroyed.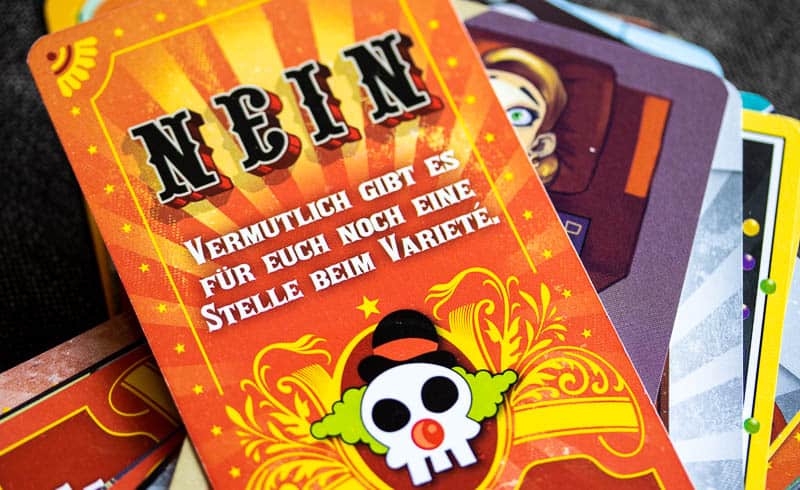 Showmen
The circus is in town and this is exactly what we visit in our first adventure. As usual, the first Unlock! adventure should always be the easiest. And that much be spoiled, it is. But it is also very funny, because the circus has been infiltrated by our old opponent NoSide. And we must try to put him in his place again. And the adventure is refreshingly funny. I had it at Unlock! – Secret Adventures that the story and the puzzles were too confusing, it's now the complete opposite. Finally the right balance between theme and funny puzzles was found.
The puzzles are not too difficult and can be solved without problems. I also don't have to bend myself artificially in thoughts, so that I can make the connection between the individual objects. But it is a pity that it was over in a very short time. But so much I can say, it was my highlight of the Timeless Adventures even if the connection to the topic Timeless wasn't really there.
But what I noticed very strongly, right from this first adventure, is the learning curve we mastered at Unlock! The hidden numbers on the cards catch our attention faster, although they are just as well/badly hidden as in the previous adventures. But also understanding the texts and the courage to take something literally is with the sixth Unlock! version has become much more self-evident.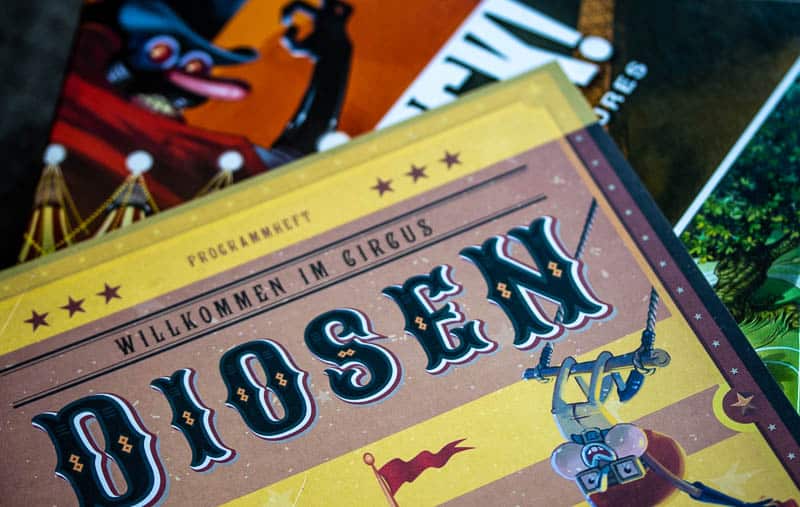 In Paris
The second adventure takes us back in time to a Paris where the famous thief Arsène Lupin makes his thefts. However, we don't play the name giving master thief, but face one of his riddles, which leads us through the whole city at the Seine.
The level of difficulty increases slightly compared to the first adventure, but it is always manageable. Even if we had to ask the app for help with some puzzles.
But unfortunately the adventure falls by the wayside thematically, because how nice it would have been if we really could have played Arsène Lupin, as it was developed by Maurice Leblanc as an alternative to Sherlock Holmes. And we only had Sherlock in the previous Unlock! Heroic Adventures as the basic theme of an adventure.
However, we remained true to our principles: just like with Sherlock, we had a hard time with the case in Paris. No help could really move us forward and we even had to call on the walkthrough. – Once again, we'd like to praise the fact that the guide is available immediately for new adventures and you don't have to browse through BGG to find a solution. – The walkthrough could help us but we couldn't make the connection between puzzle and solution right away. As with Sherlock it was not a mistake with the puzzle, but with the two deduction grandmasters, who sat at the table. We had simply ignored or overlooked a machine and therefore maneuvered ourselves out of the game.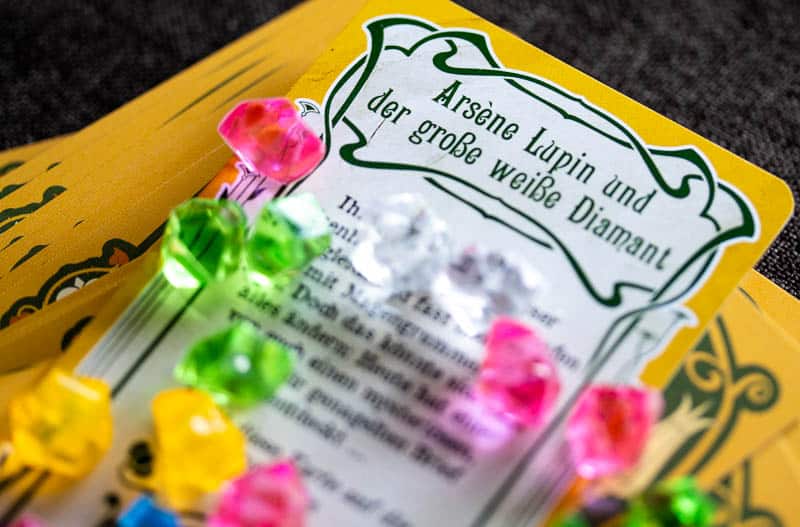 Allerdings überrascht das Abenteuer auch nicht wirklich und ist für mich von den drei Abenteuern innerhalb von Unlock! Timeless Adventures das Schwächste. Auch wenn es dieses eine Rätsel gibt, was eben nur lösbar ist, weil das System auf die Appunterstützung setzt.
However, the city map is a very big negative point of criticism. Here the individual places of Paris are shown and to each place belongs to a letter. These are also present in the deck of cards and so it can happen, – and unfortunately we had to observe this. – that other players may simply travel to a place they shouldn't be allowed to visit yet and thus skip puzzles or miss important clues. In my opinion, such a plan would have belonged in the app, even if it's not as user-friendly as the paper city map. Or the Space Cowboys would have written a short warning on the city map that the maps must not be revealed just because you can see the letters on the map.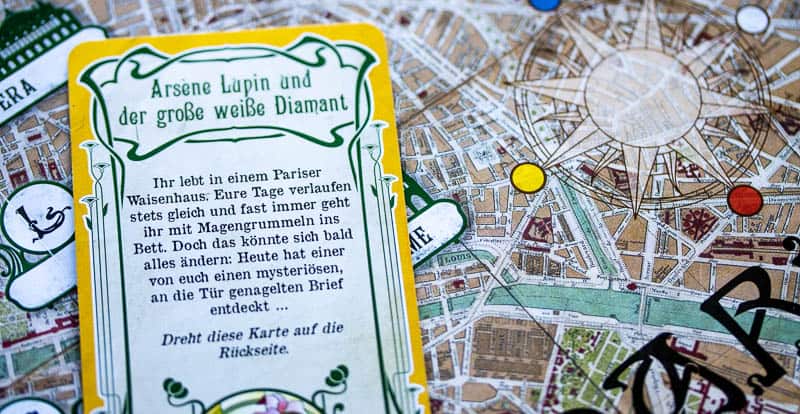 Time is running wild
The last and supposedly most difficult adventure finally brings what I wished for in a timeless adventure game. Of course we visit a well-known scientist, who has managed to develop a time machine and also to bring it into a handy format, with which we can then travel through time. If the references to Back to the Future are intended, I'll just leave it here in the room.
Well and of course it comes as it must come: Something always goes wrong with time travel, but that's what we're here for.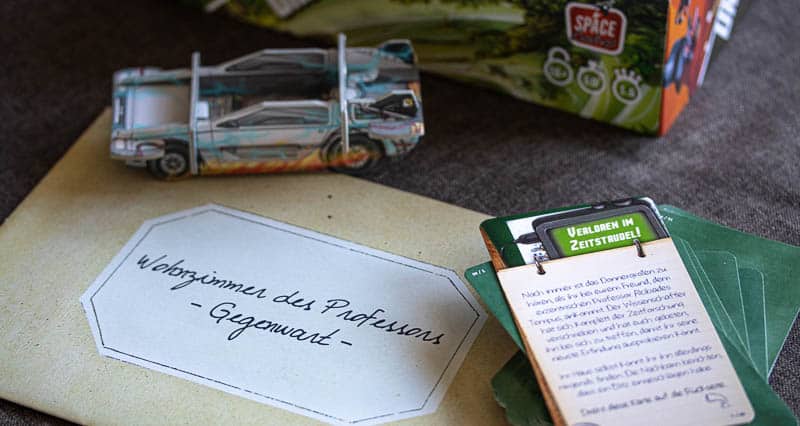 Although it is supposedly the hardest adventure, it felt much easier for us than the previous adventure about Arsène Lupin. And this is probably also the biggest criticism of Lost in the ChronoWarp. At no point was there a mystery where we really had to think long and hard. When a map was uncovered, we got into " Look at this, we can combine it with this card." mode relatively quickly.
But solving riddles is not everything. It also depends on the story and the topic. But here the last adventure could not convince me. Because a real feeling of time travel did not come up with me. One problem is that the time travel is not implemented consistently. I have to travel through time and also find the right points in time in the past and future, but once I have an object, I can use it without having to travel back and forth again. So the time travel is only a time travel light. This is a pity for me, because I really like the topic time travel.
Despite the weaknesses, the third adventure closes quite well on the bottom line. This is due to the overall package, because the interaction of the individual components is incredibly good. It shows that an escape game can have an incredible amount of freedom in the implementation of its mechanisms, it doesn't always have to run according to the same rules.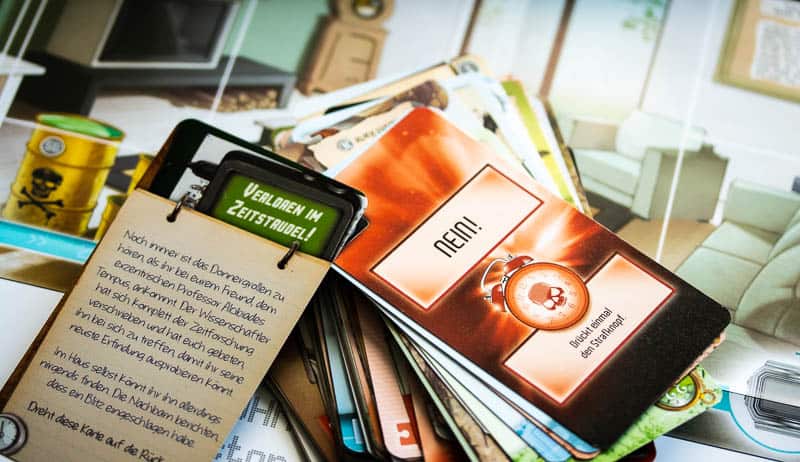 Something missing, maybe?
The bottom line is Unlock! Timeless Adventures is exactly what Unlock! series has always been known for. A deck of cards, an app and fun while we solve the puzzles. But for me it's also just that. And amazingly enough, it doesn't need more than that.
After a few days, however, the memories of the puzzles become blurred, because there are really outstanding moments in Unlock! Timeless Adventures this time not to discover. I would say that the best word to describe the game is solid. But it was just solved a bit too fast for us. Maybe in the future we'll need a variable difficulty level here. Such a thing could be solved easily via the app.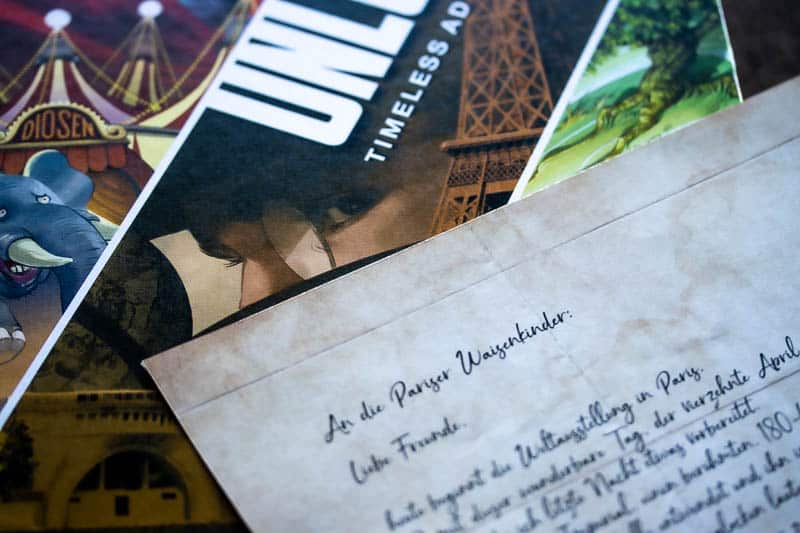 Nevertheless, the fact remains that for me Unlock! and also the latest Box Unlock! Timeless Adventures is still the best implementation of an escape game. It's simply the successful mixture of puzzles and story, which fascinates me again and again. And so they make sure again that I always look forward to each new adventure. And while with other escape games a certain disillusionment has set in with me, I can't wait until the next adventure box Unlock! Epic Adventures will be released.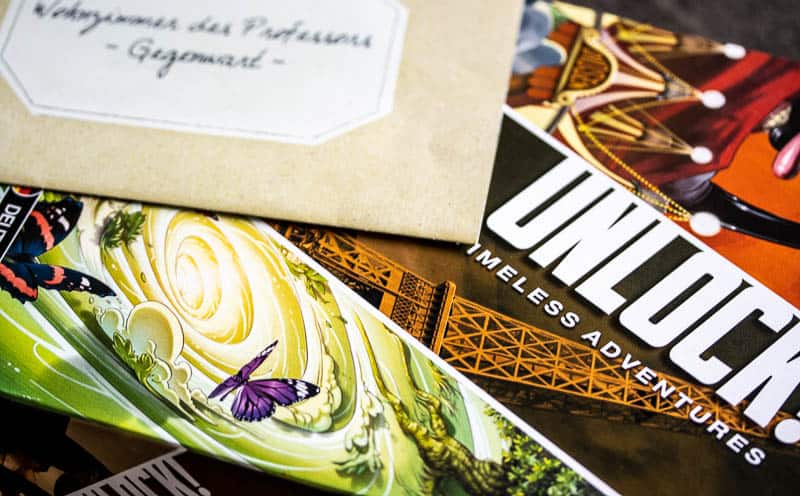 ---
Unlock! Timeless Adventures (2019)