Cascadia – On the road in wild board game landscape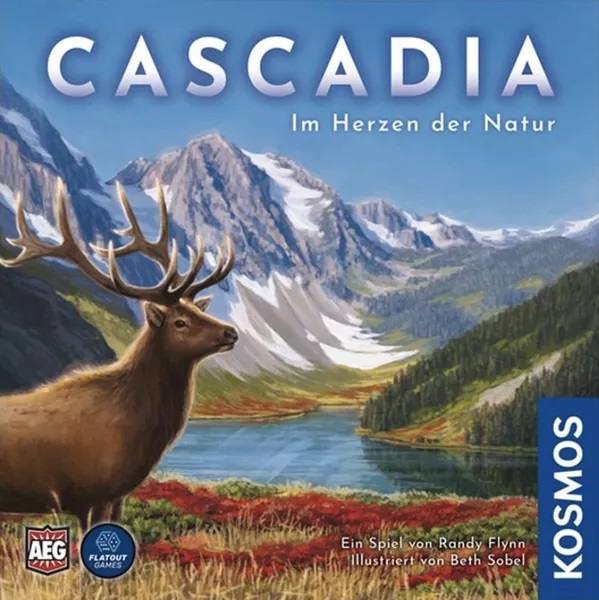 It was an exhausting way up the mountain, but at the end we were rewarded with a beautiful view of Cascadia. Majestic peaks stretch into the sky, circled by imposing eagles. Huge forests stretch at the foot of the mountains, home not only to bears and wapiti deer, but also mountain lions and foxes. And let's not forget the rivers that meander down from the mountains toward the sea through the forests and grasslands where salmon cavort on their way to their breeding areas. Yes, the climb up the mountains of Cascadia was really worth it when you are rewarded with a view like this.
Even when Wingspan won the Kennerspiel des Jahres award, I suspected that this was just the beginning of a new board game trend. And now, just under 3 years later, board games with a nature theme have established a firm place for themselves in the board game bubble. Cascadia from AEG joins the ranks as another board game in which we relax and enjoy nature while competing with others around the table. Randy Flynn's first board game seems to use quite simple mechanisms and still trigger a certain replay appeal for enough players. You can find out why this is perhaps the case and how we liked the hike through Cascadia in our review of the nature board game.
Enjoy reading!
Cascadia – you countryside in North America
To be honest, I didn't know Cascadia as a region in North America at all. And that, although I always considered myself quite well versed when it came to geography. But that's another thing I love about our board game hobby, that you get to know something new, and that doesn't mean rules or mechanisms in board games.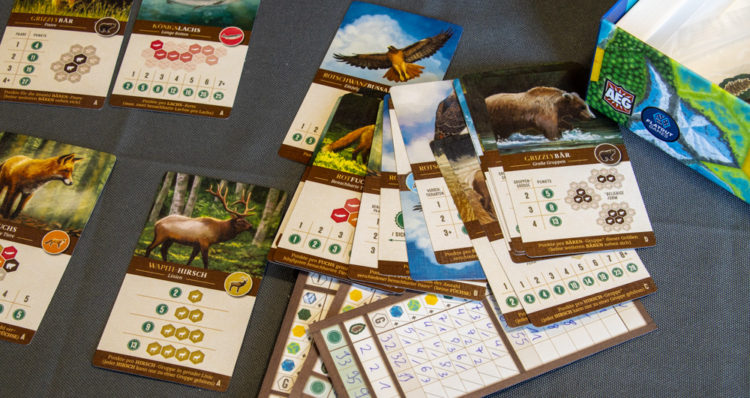 However, it is only logical that the board game Cascadia should appeal to me. Because somehow I've been attracted to nature-related board games ever since Wingspan. Parks, Meadow and Co. all strike the same chord. Beautiful illustrations meet simple and easy to learn rules. Well, you can argue about the illustrations in Cascadia, because in the end there are not so many. But the ones that are there are beautifully designed by Beth Sobel and especially in this domain she is no longer an unknown, because before Cascadia she became known to a wider audience through the illustrations for Wingspan.
But I didn't play Cascadia because of the illustrations. They are just the eye-catcher. Actually, I expected more from Cascadia than just beautiful pictures of animals and landscapes. But I hoped to meet again a board game that by fast and easy rules even in non-expert multi-player rounds quickly times on the table.
And Cascadia can proudly pat itself on the back. In summary, there is only one rule: From a selection of landscapes and animals, you choose exactly one pair of landscape and animal tiles and then place them in front of you – your little part of Cascadia.
That was all the important rules and you can start playing right away. Because all the other subtleties of the board game could also be explained during the game. And that is something I really like about Cascadia. The access level is very low and so I quickly get into the game without lengthy explanations.
There is more
Of course, some of you will now say, "But there's a lot more to consider." And yes, of course you are right. However, I can only explain many small rule or game situations when they actually happen. Do I have to explain the rule of overpopulation, for example, if it doesn't happen in the whole game, or is it enough to explain that now, when all four animals are the same, they are discarded and new ones have to be drawn?
For me, this makes for a quick introduction to a board game. And so even Grandma Elisabeth can quickly play a game on a Sunday afternoon.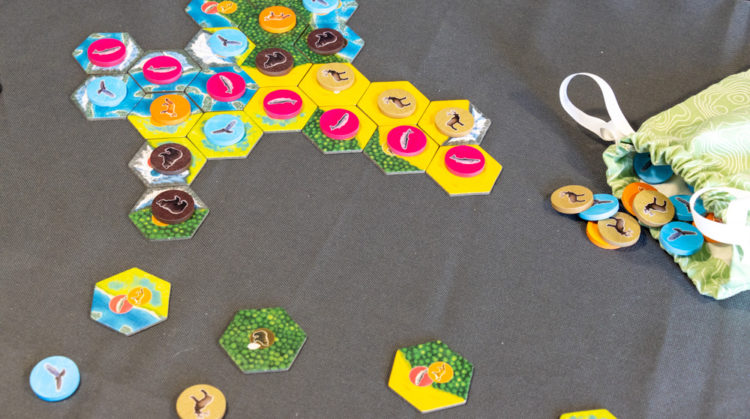 However, whether she wins or not depends on how she masters Cascadia. And here comes the next point that I like about this nature board game. From my point of view, this is the nice strategic depth with the right amount of luck.
If I have taken my pair of landscape and animal and place them at my landscape, I have to think about a few things if I want to play for the victory. Landscapes have the characteristic that they occur in large contiguous areas in nature. And Cascadia is no different. The more landscapes of the same type I can place contiguously, the more points I earn at the end. So keep an eye on the landscaping. Whereas the landscaping here is nothing more than just placing the tile wisely.
The next point to consider, in the eternal struggle for victory points, is the placement of the animals or the wooden discs that present the animals. Five types of animals exist and they do not want to live in every landscape. This is illustrated by symbols on the landscapes.
I am the only eagle!
And as if the critical attitude of the animals towards their future habitats were not enough, they also have long-term goals. Represented by the five randomly laid out scorecards. For example, eagles only want to be alone and no other may be adjacent, or bears only want to appear in pairs, but in the next game a bear can also bring points from the loner to the bear with two cubs. And so I don't just build the landscapes in such a way that they earn me a hell of a lot of points.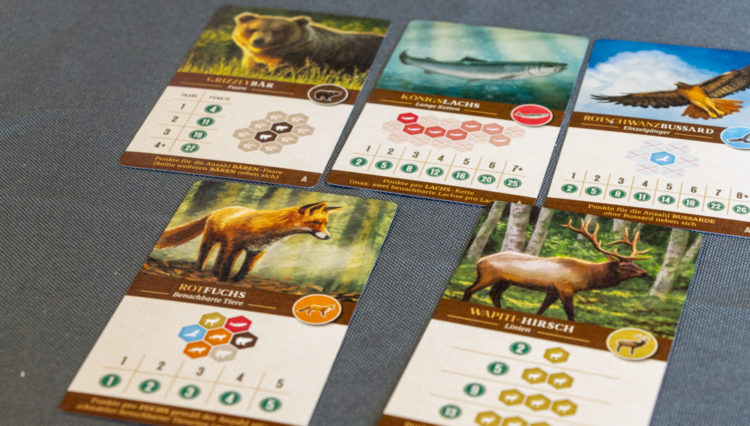 No, I also make sure that I place the animals in my part of Cascadia in such a way that their wishes or the big victory points are taken into account. And just as Cascadia is limited in the west by the Pacific Ocean, my time or better my moves are also limited. After 20 moves, in the best case also after 20 combinations of animal and landscape, Cascadia is built and we add up our points.
Yes, and in the end there is a winner, and what can I say, I don't really care about that with Cascadia. Because similar to the other nature board games, the journey is the destination. Similar to hiking, the way is the goal.
For me, a big part of the game is the puzzling. Which combination of landscape and animal do I choose? Or am I a soldier of fortune and use one of my precious pine cones to swap out the animals on display for once? Of course, this can also backfire and bring me from the frying pan into the fire. I'm not the only one who feels this way at the table, and that makes Cascadia a feel-good game for me. Because not only I am affected by the moments of luck, but also my fellow players, when they wait longingly for their forest salmon and only get a sea eagle.
Cascadia is for everyone
You may have already noticed that Cascadia is very popular in the various channels. It also won the German Pfefferkuchel 2022 this year. In some circles, this is also considered to be the mood indicator for the game of the year. In any case, it's already among the nominees for Game of the Year 2022.
Hmm, so all is well at Cascadia? On the whole, yes. A catchy board game with that certain "oh, one more game to go" feeling, and even our daughter keeps playing to win, and has been since the very first game.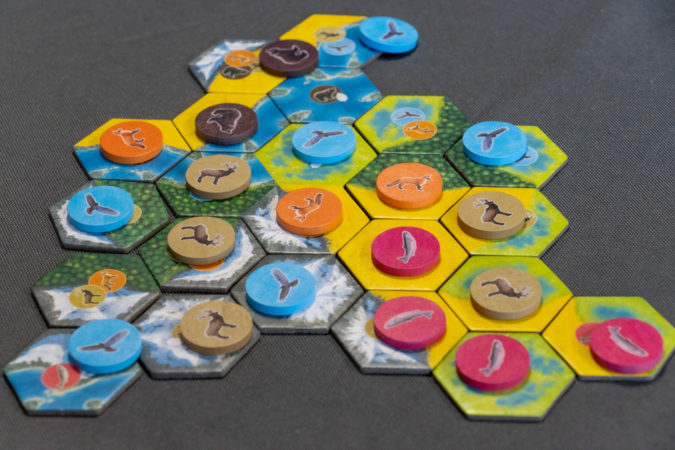 But still I can't help it, some say it's because of my age, that of course I always find something to get upset about.
And Cascadia is no exception. After several games, I still wonder why the wooden discs with the animal symbols are not printed on both sides. Why they didn't include a second large bag, from which I can draw the corresponding landscapes face down, instead of having to shuffle and count them face down each time beforehand? Here you could have also packed a nice turn counting bar. But well, these are just the strange thoughts of an old louse.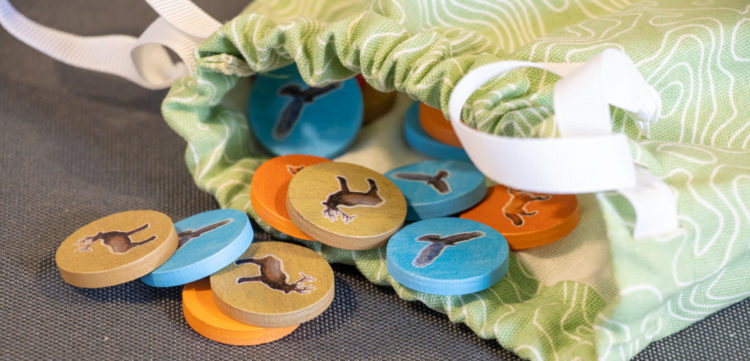 Because if I'm honest, that's just incidental, of course, and doesn't change the beautiful feel of the game that I have with Cascadia and that others at the table have had every time we've played it. As the author Randy Flynn wrote in the rulebook, the board game is really just about translating his love for this landscape into a board game. And that's what I feel when Cascadia is on our table.
And what can I say, now that this article is coming to an end, I'm already in the mood for another game of Cascadia. Maybe this time with the challenges in the rule book? Here, for example, we have to reach certain goals and earn the corresponding points. And to make sure that it fits thematically, we don't just cross our progress anywhere, but move through Cascadia and, of course, learn a little about the landscape up there in North America at the Pacific Ocean.
By the way, the pine cones in the photos are homemade and not included in the standard Cascadia game box. You'll have to make do with cardboard markers. 😉